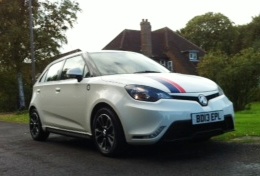 Friday, 18 October 2013
The success of the newly launched MG3 supermini is crucial to the establishment of MG in the UK.
The brand, owned by SAIC Motor, the Chinese car giant, relaunched in the UK several years ago but has failed to establish itself with woefully small volumes, selling just 782 cars in 2012, all of which were its C/D-segment straddling M6 model.
The MG3 finally gives dealers a second model to sell and pitches the brand into one of the most hotly contested of markets dominated by established supermini players; it has a tough job to do.
Fortunately for MG and its dealers the MG3 has plenty of potential. Stylistically it offers a genuinely fresh and distinctive design with some daring creases along its sides and attractive black A-pillars, while the neatly executed mesh grille and LED daytime running lights provide a pleasing face. As befitting its badge, the MG3 looks sporty.
The range is nice and simple. With five-doors and a  1.5-litre petrol engine standard across four trim levels. Prices are low ranging from just £8,399 to £9,999. There's also extensive interior and exterior personalisation packages.
We tested the £9,549 3FORM Sport, which the brand expects to be its best seller. The cabin is roomy with surprisingly generous levels of head, leg and shoulder space and a good sized boot. Neat interior touches include red trim around some of the main dials. The spec level is high with a DAB radio, 16" alloy wheels, MP3 connectivity and electronic hill hold control all standard.
The 106PS engine is perfectly capable around town and will cruise happily and not too nosily at motorway speeds, although overtaking here often requires a little coaxing by dropping down a gear. We achieved 40.3mpg over our week long 400 mile test.
What will surprise any doubters is the build quality. SAIC is a top quality manufacturer, after all it does manufacturer VW Group cars at one of its Shanghai plants, so the fact that it has been built in China and assembled in Longbridge is irrelevant when the fit and finish is as good as it is.
As a statement of intent the MG3 is an impressive proposition. It looks good and drives well. This is the car MG dealers have been waiting for. But with MG not on anyone's radar, let's hope the wait was not in vain.
Curtis Hutchinson
– See more at: http://www.motortrader.com/car-news/reviews/mg3-3form-sport-tested/#sthash.JbSPFhFv.dpuf
Pricing
Check out our full list of services and pricing: